I went to this restaurant the other night that offered burn-your-face-off chicken. It's called Hong-Cho Bool Dak, and it's a franchise. If you're in Korea you might want to check it out. The chicken comes out all hot and fiery on a skillet. We had two versions, and I thought the mozzarella on the one dish would cut down on the spiciness, but it actually seemed hotter. I'm not sure why, but I thought our frosty bottle of soju really paired wonderfully with the meal. I was either too busy wiping tears from my fire face or downing shots that I seem to have not taken any pictures of our meal.
The menu does have some other exciting things on offer, though.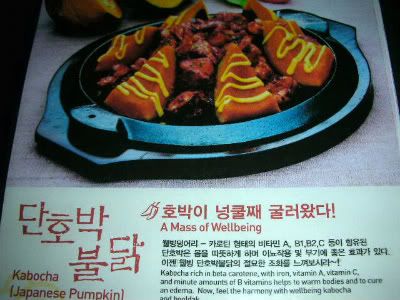 Not a little bit of wellbeing. Nor a decent sized amount. These pumpkin wedges are a MASS of wellbeing!
These fishes' balls escaped from the red and blue oceans and they've got a story to tell. It's castrantastic.
Chewy! Like Gummy! Yummy Chewy Gummy Chicken Feet! Num Num Num!