I'm coming to the end of yet anther contract next week and I still had three days of vacation I didn't take during the past fifty-one weeks. I know I could roll them over, but I'm feeling like I NEED a vacation. Seriously. DAMN! So I ended up taking Wednesday off and just relaxed most of the day and then went out shopping and for dins. Just after I had gotten Wednesday approved, my friend e-mailed and invited me to a beach barbeque on Thursday. I considered switching days, but then decided to just take two days off. Why the hell not? (This made my co-workers VERY unhappy. Whereas they teach about three classes on days I'm there, they've got seven in a row when I'm not. HA!)
So we went to the beach. It had been cloudy since Tuesday night, but there hadn't been any rain. No problem. The temperature was perfect and there was a nice breeze coming in from the sea. I really had no idea what was going to happen. There aren't many hibachis here. I wondered if we were going to use those silly little gas powered grills. Nope. What'cha do is you dig a trench.
We were underneath a little grove of tall pine trees on the other side of the road from the beach.
That's my friend Jae-Hong's bum. He was the digger-of-the-trench, with his handy collapsable trowel.
While the trench was being dug, a dog showed up to see what was happening.
And then another dog.
Who rolled around on some astro-turf mat nearby.
Rolling around is cool.
Cute little doggies!
But, back to the barbeque.
Once the trench was dug, three piles of charcoal, pine cones and little branches were assembled. Then they were lit up with some blowtorch thingie!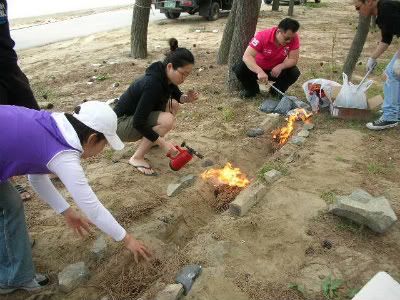 That's my best friend Kyung-sook on the fire machine thingie.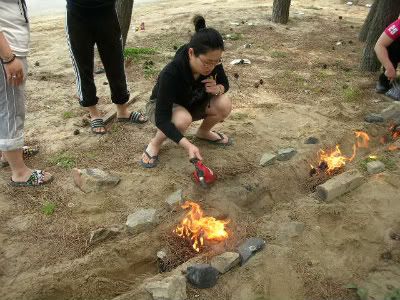 Where there's fire, there's smoke.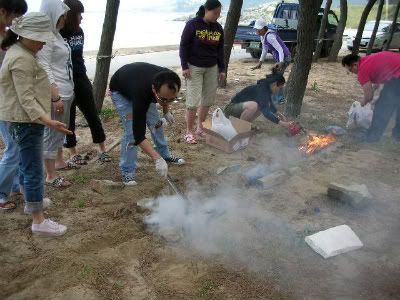 That slab of styrofoam in the foreground was employed as a fan. My friends are awesome fire fanners.
Eventually grills were perched overtop the fires, placed on rocks positioned at the edges of the trench. And out came the meat.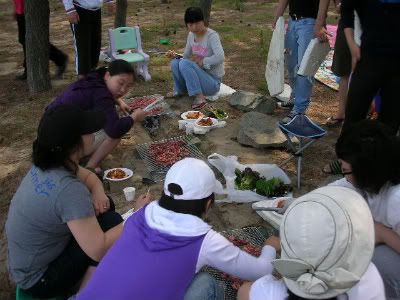 First up was marinated beef.
That stuff is deeeeelish.
A few feet away, various vegetables - the usual suspects: lettuce, sesame leaf, garlic, kimchi, and hot peppers were being prepared along with dixie cups of gochujang (soybean paste.)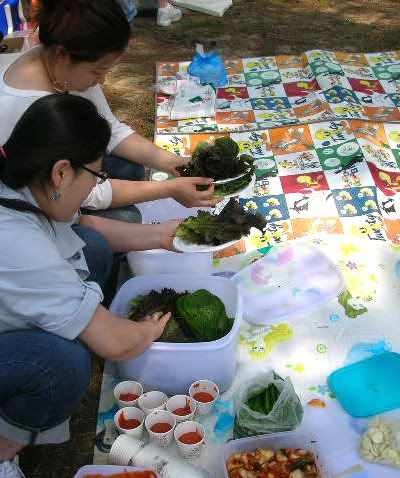 The woman in the background is so nice, but I couldn't understand why she wore high heels to the beach. Ah well.
That slab of styrofoam in the background was my seat. That dog in the foreground was my buddy.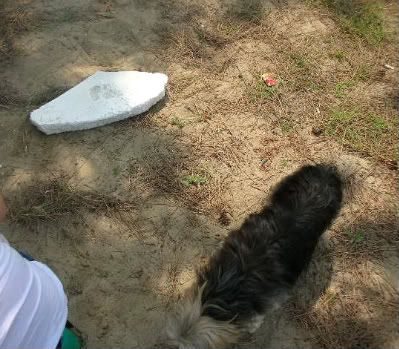 And the meat cooked.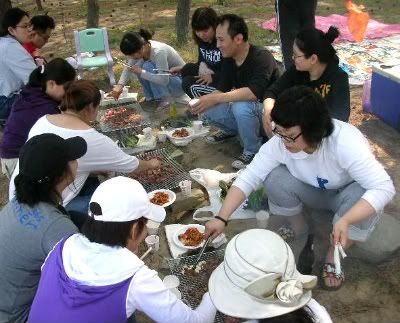 And the meat was done.
And the meat was tasty.
And I got yelled at for feeding the tasty meat to my dog buddy.
But seriously, how could I resist such a cute under-bite? The white (and apparently stupid) dog had wandered off to sniff trees or collect shells,...whatever it is beach-dogs do.
Who's a good dog?
YOU ARE!
When everyone wasn't busy yelling at me, they were happily chowing down.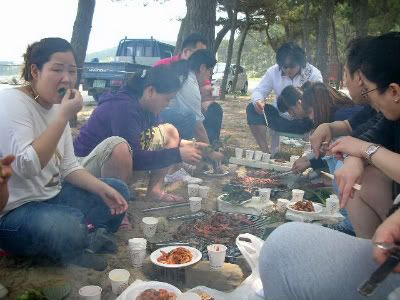 When the beef just about disappeared, slabs of marinated pork appeared!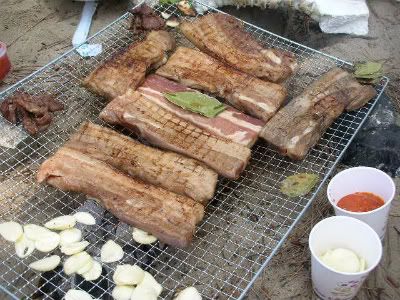 Which was eventually cut up into bite sized morsels.
With garlic. Lawd, I loves me some garlic.
Soju flowed, and everyone got happy and full and less attentive toward my dog-feeding ways. I made a friend who snuggled in and rested on my pillowy thigh.
I picked out all the twigs and stuff and even snagged the scissors to cut out the burrs burried in his fur.
After the chatting and laughing and cherry-tomato food-fight, we started to clean up and my new pal went for another roll on the astro-turf in the sunshine.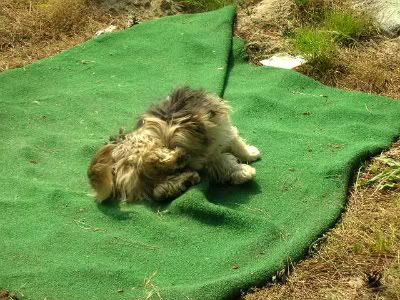 And (if Nomad reads this) we left our area pristine when we departed.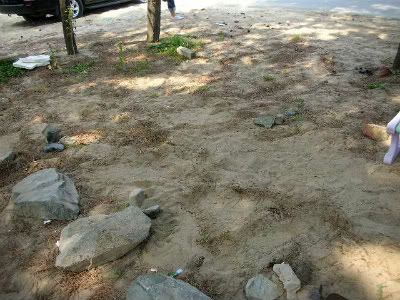 We headed to a noraebang up the road which was fun, but I snuck out on my own to enjoy the beach a bit more. The afternoon was too nice to be in a dark (albeit huge) basement singing room with Korean songs blaring. The clouds had dissapated and the sun was shining; it was just the most gorgeous of summer days. (The shit that's officially called summer - in July and August, I call swelter-hell.)
I watched this guy struggle for a long time. There just wasn't enough wind to get his sails up but he wasn't letting that stop him. He yanked violently on the bar, creating his own wind, about 985 times while I sat watching him.
Ahhhhh, such a perfect day.
This scene always makes me think of Gilligan.
I'm glad I shared it with you.