Last weekend I ventured out to the countryside to visit new mom Bella and her three little puppies.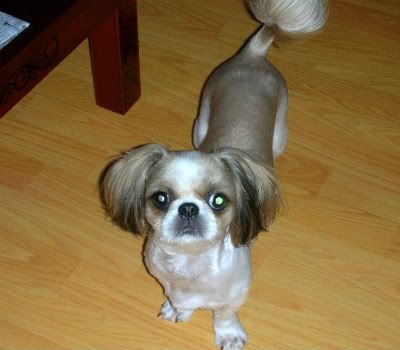 She's looking quite a bit more svelte than the last time I saw her, but this angle is deceiving, as she's got some juggy pendulous milk filled boobs on her undercarriage. She's being a good mother. I watched her step into the box where her little puppies stayed and lick them awake before settling down to let them nurse. The pups can't see - they're eyes weren't open yet, and they can't walk either, yet they were able to wriggle their way toward Bella's teats to get their milk on. They look like fat little cows.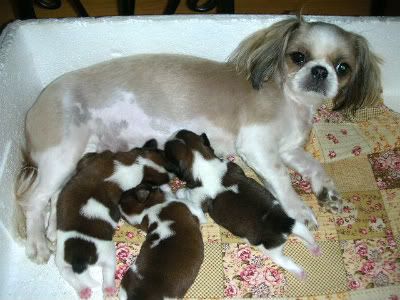 I had no idea what the puppies would look like. Bella's beau is a mystery. But they're very cute. Once I'd otten back home, I googled "newborn shih-tzu puppies" and I'll be damned, but I'm pretty sure Bella's puppies are the real deal. Here's one of Bella's: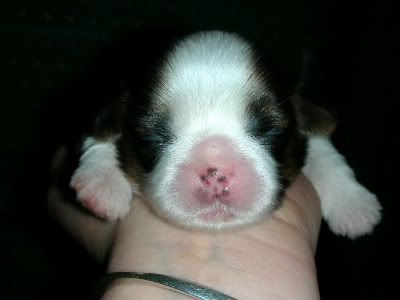 And you can compare that puppy with the ones
here
.
So they're going to be super cute! I'm planning to go back there next weekend and play with the puppies. By then, their eyes will be open and they'll be mobile. Even though they were cute, on this last visit they just weren't very much fun. Sleep and eat and repeat. Still, I was so pleased that Bella's being such a good caring mother.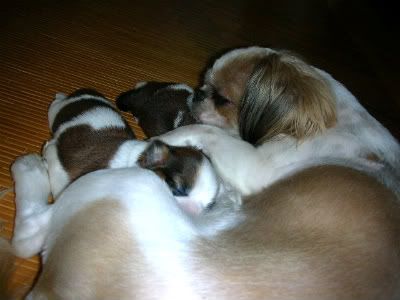 My boss's parents have a farm out in the country near Yeoungchun (which is about halfway between Gyueongju and Daegu.) They have jindos out back.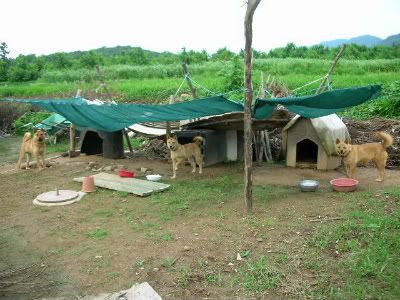 The jindos did not like me and barked their heads off whenever I went near. I just hate the idea that these beautiful big dogs spend their lives chained out back, and I wished they were friendly enough that I could take them all (or one at a time would probably be smarter) for a nice walk. Still, they seem fit and they have shelter and food and water. Actually, my boss's parents had ONE jindo - the one on the far right of the picture. Then one day they were surprised at how fat she'd gotten and wouldn't you know, she'd had a suitor swing by at some point and gotten herself pregnant. So now her two grown children live beside her.
I don't understand it, but I've come across a lot of resistance from folks around here about having animals spayed or neutered. To some, it's unnatural. There are lots of things I've come to learn and understand about K-culture in the near six years I've been here, but generally, their attitude toward animals is just something I can't get my head around. I try not to think about it very often becuase it riles me up something wicked. So let's change the subject for now, yes?
Pile of puppies, pile of puppies, pile of puppies.
(Oh, let me add that even though the Jindos live chained out back, Bella is being spoiled. She has free run of the farm and seems so happy! I was laughing at how she would come BOUNDING toward me when I'd call her. She's well fed and cared for. I just hope she stays the hell away from the big yellow dogs who seem like they would very much like to have her for breakfast. (Same goes for her puppies. I'm already worried that they won't have the sense to keep back once they're mobile.)
Out back, my boss's mom keeps pots filled up with kimchi, denjang, and gochujang. His mom is a fantastic cook, and we enjoyed rustic home-style delicious meals. With pork. Lots and lots of pork! No pictures, but we had fried fish and denjang jjigae for dinner Saturday. Kimchi jjigae for lunch Sunday, and (I forget the very long name for it) delicious pork bone soup and sliced steamed pork (bo-ssam?) for dinner. My boss's mom makes the best kimchi I've ever tasted and she's always so generous making sure I'm well stocked.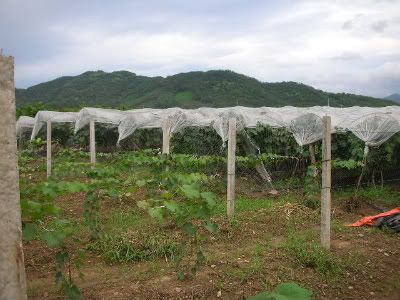 They grow grapes. Yeoungchun, I was told, "is famous for it's grapes, plums, and peaches."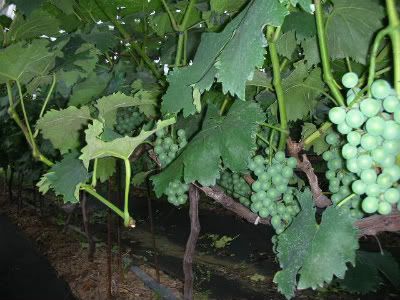 They're not ready for harvest. Around Chuseok it's grape season. In the early fall these greenies will be purpley-blue and ready for eating. I still prefer sweet seedless grapes from North America, which I'm so glad are available at the larger supermarkets these days.
I don't think I'd ever seen a chestnet tree before.
And o'er yonder is a plum orchard.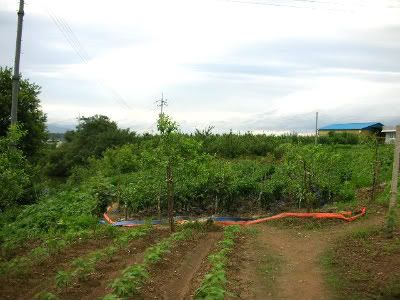 I left the farm Sunday evening loaded down with plums, cukes, eggplant, and a massive amount of their spring harvested crops: onions, potatoes, and garlic. I've actually given about two thirds of my loot away and I still have enough to last ages. Oh, and I scored a nice sized tub of my boss's mother's outstandingly stinky denjang paste.
At one point Sunday afternoon I picked myself up off the livingroom floor where I'd been alternately dozing and watching a movie and walked outside with Bella into a field where I just stood for awhile and listened to the river gurgle by, and cows lowing in the distance. Hundreds of dragonflies flew around me. I felt so calm and content.
And hot.
My god, it was hot. I could have slipped into a joyous happy trance if it weren't for the fact I felt like I was bloody well melting. I had to go get some cream on Monday for the heat rash that had enveloped my mid-section over the weekend. Damn!
Still, good times.