Recently I had a feast with a bunch of
fools
friends. I had brought back some packages of
Mesquite Marinade
from Canada and decided to prepare some meat for my pals who own a
BBQ restaurant
here in town. So we headed to the open market on a sunny Saturday afternoon and I bought a couple chickens to add to my stash of ten breasts I'd already bought the day before, and a mess of
samgyeopsal
. I was going to feed about fourteen people. I also picked up a load of fresh vegetables, dirt cheap. I love the markets here, though if you go to the ones in smaller towns like mine, you're bound to get a lot of stares from the vendors. If you smile, though, you're bound to get a smile back.
Under the umbrellas ellas ellas.
Mmmmmm. Garlic!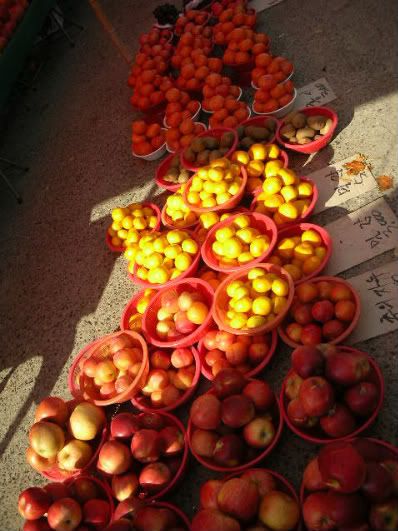 I didn't have the balls to take a photo of the adjumma sitting on a platform, sleeping with her head on a stool, proped over bowls of hairless chopped up dogs she had for sale. I was getting some stink-eye from the neighbouring vendors for showing a bit too much interest in her stall. Next time I'll be more stealth in my secret undercover picture taking!
I came back to my apartment and hacked the chicken up into pieces, mixed up a big batch of marinade and dumped all the meat into various big zip-lock bags and containers.
Mmmmmmm. Marination.
Later, I got to vegetable chopping to prepare this "
Oriental Coleslaw
" recipe that I'd found online.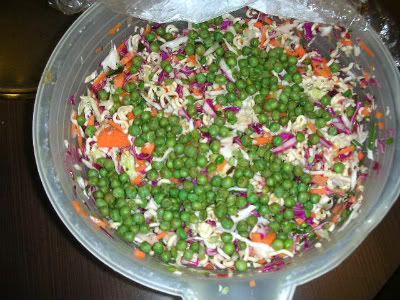 It turned out pretty well and there was loads of it, (another giant container as well as this big-ass bowl) so my friends ended up serving it as panchan to their customers the following day.
The staff arranged a variety of other panchan and sauces to accompany the mesquite-meat-feast.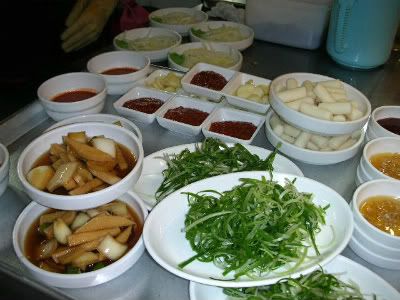 See the ddoek? (Logs of rice cake.) That stuff is
so
yummy on a grill!
And so we got to BBQing!
Mmmmmm, chicken!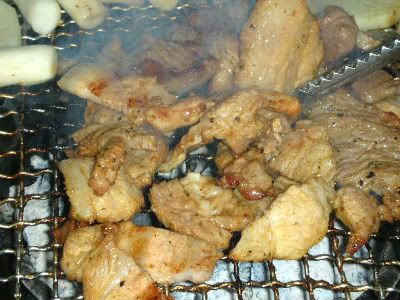 My friends really enjoyed the smokey flavours and it was a different take from the regular sweet-bulgogi or spicy yangyam style flavours. Yummy!