Perhaps there's no better way to snag a panoramic view of the glorious city of
Ulsan
than to ride the giant fancy neon Ferris Wheel that sits atop a building adjoined to
Lotte Department Store
in Samsan-dong.
We approached the behemoth wheel and the fellow manning the booth gestured to my companion and said, "Who he?" I replied that he was my friend, and the Ferris Wheel man shook his head and nodded in the direction of a sign.
See the bottom part? Hmm. The ""Wheel" is only to be enjoyed by family and lover. The man in the booth would not be moved. So my friend and I had to sneak into a bathroom stall to make a happy sex time. Luckily, his wallet bore the circular imprint of a long stored condom, as further posted rules were even more specific.
There were a whole bunch of rules: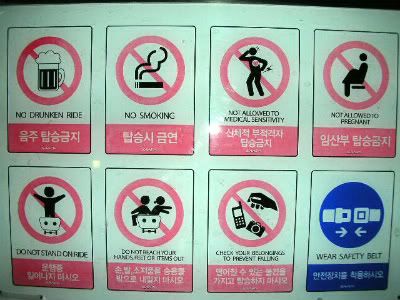 just The Man trying to Bring You Down.
IMO the best way to enjoy the ride is to be drunken. Very very drunken.
So, anyways we reappeared and affirmed that we were now lovers and no, I hadn't been got the pregnant, and we were allowed on. I wanted to jump out the locked caged car almost immediately because our in-car music thingie didn't work and as we slothed our way further from the ground I had trouble hearing the "gee gee gee gee baby baby baby" that blasted from the speakers below.
The lights of Ulsan are pretty, but I'd recommend riding the Wheel of Yawn during daylight hours. Because hopefully that's more interesting than riding it at night. Which is what we did. Which was yawn inducing. And just so you know, standing in your overheated car (air-conditioned in the summer, yee-haw) and rocking it back and forth is heavily frowned upon. Your music-less speaker will somehow crackle to life and yell at you to sit the hell down.