Shhhhhhh.
Shhhhhhh!
It sure has been quiet around here this weekend, but you can understand why.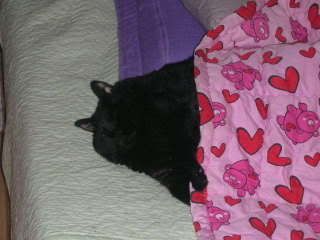 Kamikaze needs his rest. Shhhh, don't wake him or he's libel to get angry and go all lasery on us. I'll just tiptoe around my apartme,....OUCH! OWWWWW! I stubbed my TOE! $#@**@&@&!!!!
Uh-oh.
He's up.
I'm avoiding eye contact.
Does he look ticked off?
It's best you mosey along now. Ol' Laser Eyes might get zappy-happy.
Hey! Why don't you go visit Sher and the always fabulous and fluffy Upsie, who are enjoying some sashimi over at
What Did You Eat?
Thanks for hosting WCB this weekend, Sher!