A "toast-uh" is a Korean sandwich, often cooked up on the street in a little truck or from a cart. It's usually made of egg, a slice of ham or thin sausage patty kind of thing, maybe some cheese, and a pile of shredded cabbage doused with maybe Thousand Island dressing or ketchup and mayo on white bread that's been griddled grilled cheese-style. You can check out a picture on this
Flickr page
, or about 3/4 of the way down
here
on the fabulous
Mary Eats
site. It's not an entirely healthy snack, but it goes well during or after a night out of carousing. Or anytime.
Well recently a little shop called "Tomahto" opened up near my school, and I'd seen students walking around with a unique version of toast-uh. It was puffy and circular and reminded me of a Hot-Pocket, though I'm fairly sure I've never actually eaten a Hot-Pocket.
So as I was passing by the other day, I decided to stop in and treat my co-workers and myself to a sandwich. "Toast-uh, seyge juseyo," I requested. The lady rattled off a list of possible ingredients (?) and I chose "chamchi" - tuna. So as she went about assembling the first sandwich, my eyes widened. She piled a slice of white bread high with a myriad of stuff, and then plunked it onto a heated cast iron press that pinched off the corners and sealed the edges.
I've never seen anything like it.
This is Sunny's toast-uh.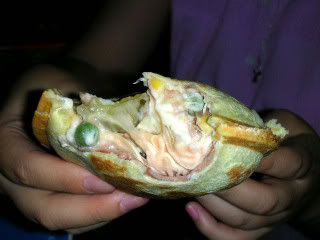 It's made of tuna salad loaded with corn, peas, macaroni, and mayo. There's also a slice of ham, a few sweet pickles, a pile of shredded cabbage, a glob of mashed potatoes, and a slathering of strawberry jam.
??????
This is mine.
It was the third one made, and I ixnayed the tuna, since I'm not a fan of the peas and corn. So mine's mostly potatoes, ham, cabbage, pickles and strawberry jam.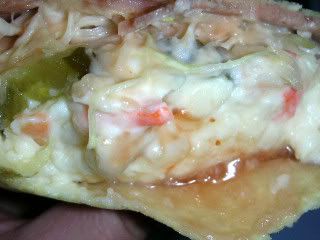 It tasted,...well,....what do you think? It tasted gross. Like something a crazy pregnant woman with irrational cravings dreamed up. Ewwwwww. And I couldn't properly explain to my co-workers or students (who I fed most of my sandwich to) why it was so mental. To them it was seriously deelish. Ick!