My town has only one well-known fast food joint, Lotteria. I don't go there very often, but when I do - it's for a shrimp burger. Zen Kimchi has an interesting post comparing the
shrimp and squid burgers
, and also reviews the freaky
Frico burger
, which I agree is interesting and tasty.
My local Lotteria is a hot spot for hosting kid's birthday parties on the weekends, and they have large cork board on the way in with pictures of all kinds of little kids in their party hats, munching on their fries. I like to browse through them and see my students in their more natural environment.
Anyhow, just last week our Lotteria relocated! Now it's just a couple blocks up from where it used to be. In a newly renovated building, it's now attached to a new 7-11. I thought I'd stop in and check it out, and I was pretty impressed!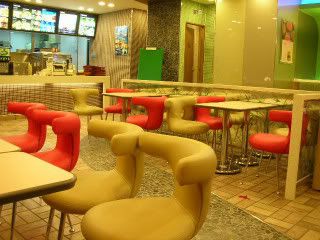 This is a vast improvement from the previous early 1980's style deco. It was actually quite a nice dining environment!
Check out the booths, cozy for a nice family meal!
I was glad to get in there before everything is coated in greasy little hand prints. And I wonder if it's just a thing with my local Lotteria staff, who don't believe in wiping down the tables after their customers leave. More than half the tables had meal remnants on them, and I wondered if the patrons are supposed to clean themsleves.
Regardless, it makes for something new and exciting in these here parts, but what pleases me even more is the big sign I passed on the shop where Lotteria used to be:
Paris Baguette
!
When I first moved here, I felt really put out when I learned I was going to have to make an hour and twenty minute round trip bus ride downtown to get cat food. That was when I imagined that I might have a vibrant social life. (HA!) Nowadays, if I see a bus pulling up when I finish work, I sometimes just hop on it. I don't mind the ride; it gives me a chance to read, or listen to tunes, or get lulled into a whiplashy nap. And the bus lets me off right outside Paris Baguette, where I can get some fairly decent bread. A lot of it is varying versions of fluffy white crap, but they can make a decent baguette and occassionally I luck out with a small loaf of dense sourdough. The tiny rye loaf is chewy - but really doesn't taste like rye at all. It would definitely anger pastrami, if such a beast existed here. (But oh, how I dreamt of a real pastrami on rye while I tried to enjoy my fake rye toast the other morning.)
Anyways. We're really gettin' fancy round these here parts these days!