Look at this beast! He's got a face - other than his real face - on him. Two-faced. See that buggy thing below him? Two-faced Spider is about to have him some lunch.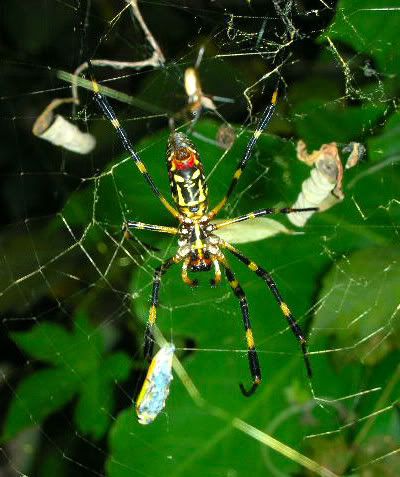 See?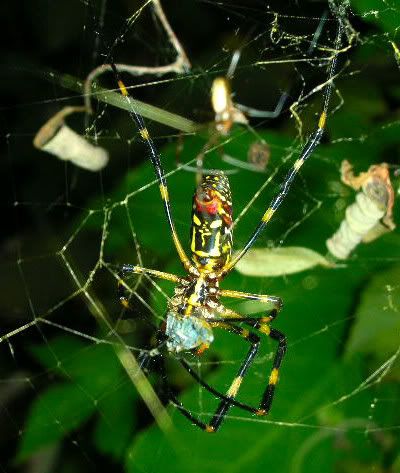 Mmmmm! Buggy!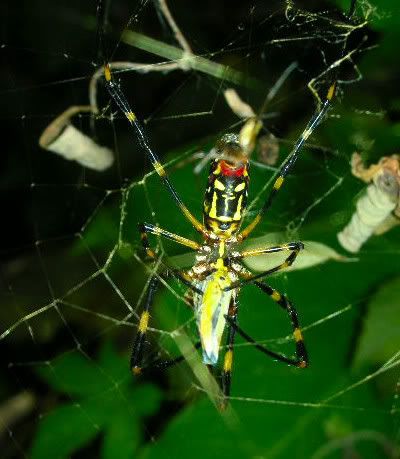 This was on my way to work. These spiders look scary to me. They look scary, and their colourful angry "faces" look scary! Don't you think?
Here's another one, just a few steps away. Surely it's of the same species. The "face" is still scary,...but different!
It's hard, I know, to get a sense of the size of these beasts. Let me assure you,...it's hard to get a SHOT of them! Their webs are waving in the breeze, and up in the bushes beyond a four foot wall that holds the mountain from collapsing into the road. So let me say these spider's nests are BIG! They're more than a foot long up and down.
I'm glad they're nesting in the mountain greenery. If I woke up with one on me, rest assured I'd freak out and go crazy batting it off me. And then I'd have a heart attack and die.