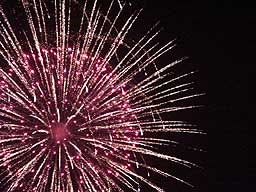 Last Sunday night I was on a beach by the sea in Japan, watching fireworks. One thing I really miss about Japan is the festivals. In the spring there are cherry blossom festivals (hanami,) and every shrine has its own festival throughout the year, so every month there's some kind of happening you can attend and experience the culture of Japan.
So, luckily my visit coincided with a
hanabi
festival in the city I used to live! I've been to this one before, and really loved it. All around me were pretty girls dressed in their traditional summer kimonos (called yukata) and all around were stalls selling food, candy, beer, and other things.
The fireworks are really impressive, and lasted about an hour or so. I sat on the beach with friends, drinking beers and chu-hi's (fizzy fruit flavoured alcohol bevvies) watching the night sky explode with brilliant colours. It was a really great time. My only complaint was that it was HOT, but the sea-breeze was decent, and I cooled down from our 30 minute trek from the subway to the beach eventually.
At least I was wearing a good pair of comfy sandals. My friend Toshi wore his male yukata and traditional geta sandals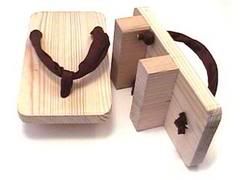 which are hard to walk on. He was a trooper though! I would have whined the whole way, "My feet hurt! Why are these sandals so uncomfortable?" My friend Toshi is a good guy. He actually came back to Canada with me last year and we had a great time! He also has a ridiculously long tongue.