My mother's cat, who was momentarily my cat (as I rescued her snow covered little body from a blizzard) is SO FURRY and light as a feather. Seriously, hoisting Kamikaze to my shoulder is like picking up a sack of potatoes, but picking up Mattie is like capturing a puff of air. If I didn't know better, I'd think she was totally comprised of fur! She has a gorgeous plume of a tail which she holds upright when she walks. What a funny princess!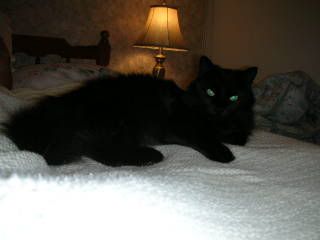 My mother complains Mattie won't sleep with her, but just as soon as my mom took off Saturday night to hang out with her boyfriend, (leaving me with a video and a bag of cheesy poofs) Mattie climbed atop my mother's pile of clothes on her bed, and stayed there almost all night until she climbed on my sleeping back in the early morning hours.
Hey Black Flat Mattie Cat, where are your eyes?
Mattie and Kamikaze are promised to one another. It's an arranged marriage that's going to take place next summer. I've explained it to both of them, but am not sure they understand. When they meet, I'm sure they'll protest and maybe even brawl, but too bad, so sad, married they will be.
Meanwhile, Kamikaze figures if he plants his big self on my suitcase, I won't be able to go away anymore.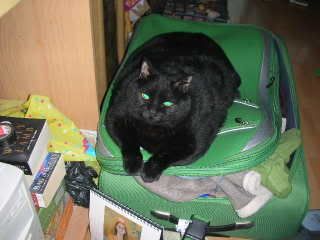 For more weekend cat-blogging fun, visit the guest hostess Heather's
site!