I was so surprised to arrive to work to find another box from Belgium on my desk! Once again, the far too generous
Eva
struck me with kindness once more. She blows my mind! Check out my goodies!
Mmmm! Chocolate and cheesy-macaroni and candies! No, wait,...those aren't candies.
They're wee delicious sausages. Or rather, they were. They didn't last a day. These were unshared. HA!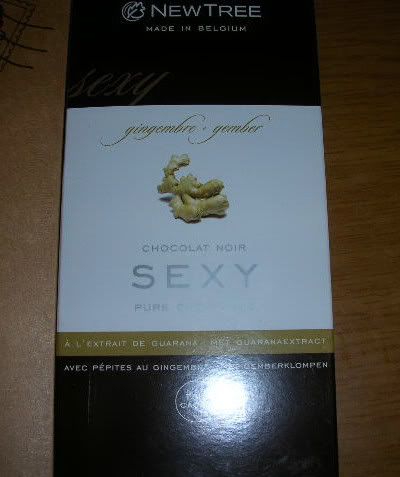 Sexy chocolate indeed! With Ginger! This was a little shared. The other bar in the first picture is my favourite - dark rich chocolate and hot red pepper. I think the sweet and the spice match so well together!
But wait! There's more!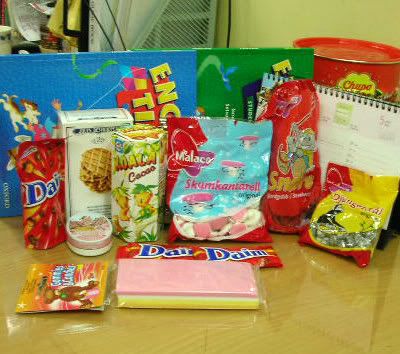 A LOT more! There was candy for the kids and more
Daim
for me. I didn't want to, but I shared a couple of the bars. I shared most of everything, actually. Sometimes I feel like I work with hyenas. They cackle as they ravage my parcels.
See at the foreground of that last picture? They were sheets of edible paper that kind of tasted like ice cream cones. Very cool - and the kids thought they were great. See how sad my little boys in my 1st class were when I entered the class? (They're often crying as they love to fight one another before I get there.)
Such a sad boy!
But then we ate some of Eva's candy and that put everyone in a happy mood!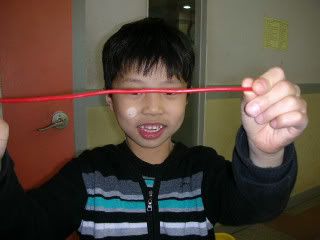 Shoestring licorice! Right on!
Now everyone is happy and the boys are best friends!
Perhaps peace would rule the world if we all just shared a bit of candy, eh?
In my next class, I explained how when I was a kid, I would bite either end off the long licorice and use it as a straw. The kids had to try it out, and they all jammed their long red candy straws into my water.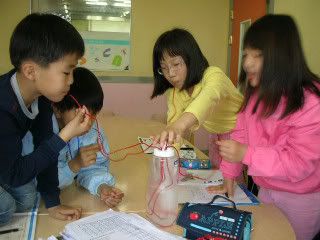 Isn't this pretty?
Rose flavoured little balls of heaven. They were really very yummy.
There were little marshmallow mushrooms, and little chocolate filled koala cookies. So cute, it was a pity to have to bite their heads off.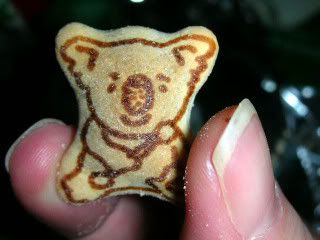 Bye-Bye
Wee Yummy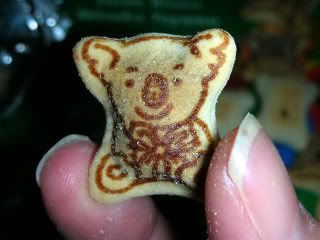 Koala Bears.
Eva also included some candies that are pretty unique. I didn't take a great picture - but they're on the far right of the second group-of-goodies photo. They're little jellies that are monkey shaped and covered in a good coating of salt. Eva's told me that salty-sweet candies are really loved over there, but they're quite, well, (forgive me Eva) awful tasting. (Eva will understand. She wasn't very keen on some ginseng candies I sent her - and I agree they're quite un-delicious, too.) Funny thing with the kids though...if I give them something they don't recognize, they often take it tentatively and are very hesitant to try it out, despite my urging, "Go on, eat it - it's good!"
But if you offer them a pack of candies and say "I wouldn't try this if I were you, they're really very bad and you might throw up," they're all clamouring to try it out. And then they all squeal in horror clutching at their throats. I thought a couple of them were going to kill me when I confessed, showing them the front of the package, that they'd just tried candy made out of monkey meat. HA! Then many of them requested a couple more to take home and feed to their parents and siblings. Kids are mean!
Much thanks again, Eva. And thank you for sending another book I'm looking forward to reading! I need a sunny vacation and a beach to deal with my pile of books waiting to be read. Eva's recently gone to Sweden to celebrate Easter with her family. She's got some nice photos up on her
site!
My co-workers and students thank you as well, my friend. Any day I get a parcel from you it's guaranteed to be really fun at school. The last time I got a package from any of my family back home was probably about a year and a half ago, and yet I've gotten three from you this past month. Your kindness really overwhelms me. Kamsa hamneeda from us all!