Well well. I missed my Blog's Birthday! It was yesterday, but I guess since it's still the 14th back in Canada, we can still celebrate. Let's have cake.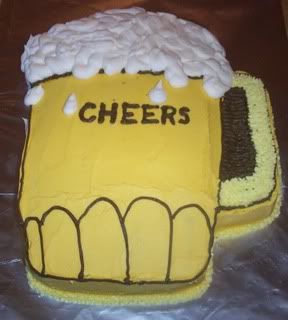 Let's have some of this beer cake I
stole
borrowed. Happy Birthday to my blog, (Cheers!) you're two years old! You're good enough, smart enough, and in a few days you'll have you're 30 thousandth visitor, so gosh darn it, people like you!
Today is Teacher's Day in Korea, which means - well, I don't know. My manager told me last week that they were considering giving us the day off, but that's not happening. That would have been one mighty fine gift, and I'm sulking a little bit because all the elementary and middle schools in town, as well as the taekwondo and music schools in our building have the day off. Hmph. Jane mentioned maybe I could bring in my DVD player and we can plop all the students down in front of the TV and let them watch movies all day long. I don't think that's going to happen. All the kids have been told we're going to have a snack party, so they should bring in junk food so they can spill stuff all over and have food fights. Then I get to shout at them and clean all day. Happy Teacher's Day to me! I think the students should give me pedicures and manicures all day long. And fan me with giant palm leaves. And feed me grapes. You know, that sort of thing. The staff will be going out tomorrow after work for something to eat and maybe a little drink. There was talk of going downtown, but we might just nix that idea and stay around here. As Sunny put it, after about 10:30p.m. from downtown "bus is no."
Meanwhile, this beast lives on my balcony:
I don't like her.
I wasn't about to put my hand near so you could get a sense of her size, but she's big. And
loud
when she comes flying in as I hang up my laundry. (And run back inside flailing my arms around my head.) Jane looked at this picture and said, "Oh! These are very dangerous!" She says when Koreans go and visit their ancestors grave sites they're sometimes attacked by these killer wasp things. I actually took this picture last week, and the day after snuck out while the beast was away and removed her nest with tongs, tossing it off the balcony. I saw tonight, though, that she's back and rebuilding. After I wake up, I'm going to remove her nest again and smear my entire balcony with tabasco. That'll show her!