I went out for dinner the other night. Wanna see what I ate?
Delicious galbi! Above, the long strips of marinated "king rib" have been laid on the grill. Here's some of the panchan (side dishes) we were served: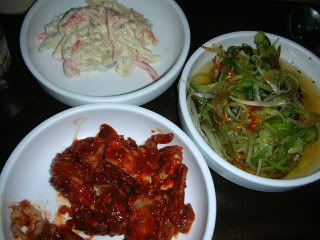 Those are saucy little crabs in the foreground. Then there's a pile of shredded greenery in a sweetish vinegary sauce. The dish at the background was interesting. I thought it was just macaroni salad, but it turned out to be one of my favourite things: konyakku! Thin strips of the jelly-like konyakku were mixed with faux crab, cucumber, peanuts and mayo. Yummers!
The meat was cut up and the soju poured.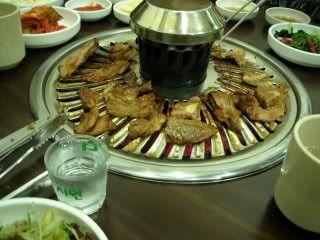 Let's have a closer look.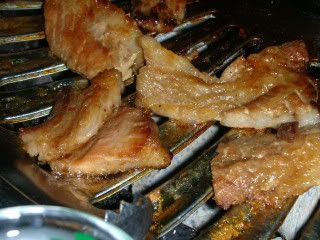 Mmmmmeat is mmmmmmyummy.
And I got the bones wrapped up and delivered them directly to Buddy: The Good Boy, who agreed it was tasty!