Okay, so the spinah salad is long finished and it's time to eat again, but what to have,...what to have? Ah! A sandwich! That would really hit the spot. So let's grab one, shall we?
Mmmmmm, barbeque! And this sandwich is "Australian!" (see up near my thumb there?)
FRESHNESS!
TAKE - OUT!
It all sounds good to me!
Wait a minute.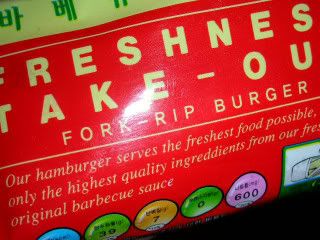 A Fork-Rip Burger? Uhhhhh,...
Well never mind. Let's see what we've got.
It doesn't look like a burger, unless it's a burger disguised as a hot dog.
What's inside?
It does not look like this "hamburger serves the freshest food possible." I don't think these are the "highest quality ingreddients." You can see the "original barbeque sauce" though. (See: "ketchup.")
Well, let's see how this fork-rip sandwich tastes! I bet it's deeeeeelicious!
Oooops!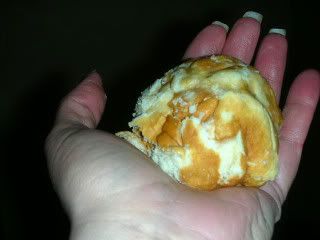 I accidentally squished it.
Well I'm not eating it like
that
!