About three weeks ago I made a sammich. It was deelish. I got the recipe online from
Canadian Living dot com.
All the ingredients are easy to get here, this is one surimi-loving country! (Surimi is fake crab!)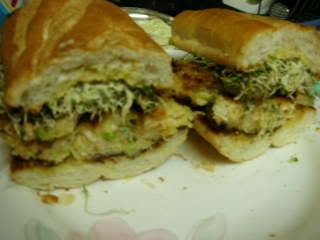 That's one tasty looking sammich, eh? You know you want to eat it, ya hoser. The recipe is to follow, but I'll mention that I substituted alfalfa sprouts for the cucumber slices, because I didn't have cukes, but I think there should be a law that all sammiches have sprouts on them! I also used a baguette instead of the suggested hamburger buns or rolls.
California Roll Burgers with Wasabi Mayonnaise
Sushi lovers will enjoy these golden burgers with all the fun elements of a California roll. Surimi – imitation shellfish usually made from pollock and flavoured with crab or lobster – is available in the refrigerator or freezer section of most grocery stores and makes these large patties affordable.
Ingredients
2 Eggs
1 cup (250 mL) Dry bread crumbs
2 Green onions, chopped
1/4 tsp (1 mL) Each salt and pepper
1 lb (500 g) Surimi (imitation crabmeat), chopped
2 tbsp (25 mL) Vegetable oil
4 Crusty rolls or hamburger buns
1 cup (250 mL) Thinly sliced cucumber
1 Ripe avocado, peeled, pitted and sliced
Wasabi Mayonnaise:
1 tbsp (15 mL) Wasabi powder
1/4 cup (50 mL) Light mayonnaise
Preparation
In bowl, beat eggs. Stir in 1/3 cup (75 mL) of the crumbs, onions, salt and pepper; mix in surimi. Shape into four 1/2-inch (1 cm) thick patties. Sprinkle remaining crumbs into shallow dish; dip patties into crumbs, turning and patting to coat. (Make-ahead: Cover and refrigerate for up to 24 hours.)
In nonstick skillet, heat oil over medium heat; fry patties, turning once, until golden, about 10 minutes.
Wasabi Mayonnaise:
Meanwhile, in bowl, stir wasabi powder with 2 tsp (10 mL) cold water to form paste; stir in mayonnaise.
Cut rolls in half. Toast in toaster or under broiler until golden. Spread wasabi mayonnaise on cut sides of rolls. Layer cucumber, patties then avocado on bottoms; sandwich with tops.
The next day I made a different variety for the teachers at school, just a chopped mix of surimi, onions, salt and pepper with the wasabi mayo binding it together. And sprouts, of course. The teachers liked them.
For the last two weeks I've eaten the same thing for brunch and dinner everyday. It's my favourite Korean dish, I think, and the place near my school makes the best I've ever tasted. I've posted about
soon doobu jjighae
before (and even have a recipe for it.) The restaurant I go to also has outstanding panchan (side dishes) and I've suggested the owner lady who makes them should adopt me.
I got a great present from one of my students. She made it at art school- I guess it could be a paperweight, but I'd like to figure out how to stick it on my wall. I LOVE it!