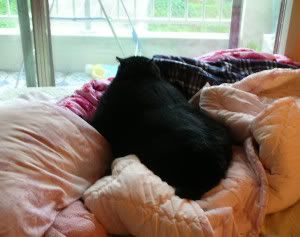 My baby's got his back to me, all snuggled up consoling himself at the thought of me leaving him for 2 and a half weeks. I'm worried about him. Yesterday the guy who's going to stop in to feed him and change his water and litter everyday came by. Kamikaze was pretty well behaved, but hissed at him at one point. I haven't seen him hiss in SO LONG! I asked what had happened, and the guy said he had whispered to Kamikaze that he needs to go on a diet!
So, yes. Kamikaze's a big spoiled baby, but he'll be okay- right? Cats are resilient. I once read in a book somewhere that he (all cats) actually just regards me (cat owners) as a bigger litter-mate. He better be ok.
Poor baby!
Good news, though- that Clare's back!! Yay! Go visit her and Kiri at
Eat Stuff
for more fur-babies.