Another Market Day has come and gone at my school. Usually, the teachers all head out for some food after Market Day, but for the first time we opted not to. Everyone munches on stuff all day long (the kids kept coming around and putting mandu in my mouth) so no one was really hungry. Ah well, I hope we go out together soon!
So I stood on the street for awhile, deciding what to do.
What to do? What to do? It's Friday night.
I decided to go home, but on the way changed my mind and decided to stop in at a little Japanese style restaurant (that
really
doesn't do Japanese food very well at all) for a pint and a chance to read my book in peace.
The place was empty, but just a couple of minutes after I sat down, a couple from my apartment building came in and seemed happy to see me! He's Korean and his wife is Vietnamese. It's interesting trying to communicate with them. We can all speak our own languages very well, but aren't so good at each other's! I was glad the nice lady said I could call her "Hang," instead of her full name, which I found impossible to pronounce. The guy was a big "hand-talker" and accidentally poked his wife in the face about 3 times. I was glad he was across the table from me!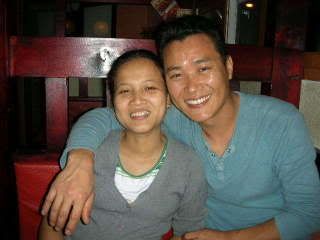 As we were leaving, I ran into a guy I knew who invited me to sit down and have a beer and some food with him. Ok! What'cha eating?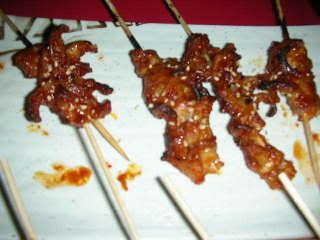 Mmmmm, chicken feet on sticks!
Mmmmm, dried chewy squid!
Mmmm, seaweed, more squid, and bugs!
Ummmm, I'm not so hungry, but sure, beer, ok!
My pal called another couple of friends (actually I was with these guys last Friday night as well) and suddenly it was a party. We decided to go to the noraebang (karaoke) which I'm always up for! We took a cab there, and my pal accidentally slammed the car's door on my hand. He looked positively ill about it. I got a nice gash in the last knuckle of my middle finger, and bruises on my two longest fingers, but it's alright. I still managed to rock out, though I can't remember what songs I sang.
I was supposed to go out tonight with another group of friends, but they never called, and I didn't care because I was enjoying a nice nap. It was an interesting excuse, though. Their guest, a friend from Japan, is Blood Type A, so she's shy about hanging out with a foreigner! Ha!