On Friday, outside the local Family Mart, I came across an unusual gorgeous site.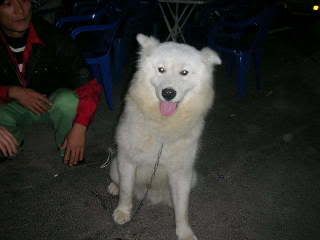 It was a big beautiful dog.
Frankly, it's unusual to see a big dog in Korea (outside of a stew pot, BA DUM BUM!) But this big boy sat proudly in all his fluffiness and attracted A LOT of attention. I petted him and talked to him, "Yes, you're a good boy, you're a handsome fellow, what a smart boy!" and then asked to take his picture.
I was so impressed, I bought the owner a beer. And he bought me a beer. And we sat and talked about his dog with the help of my friend who translated.
The owner, after seeing a television show about Samoyeds, couldn't sleep for wanting one. Now he's got three adults, the one pictured - and his two wives. The "first wife" just had six puppies, so buddy's got a lot of doggies! I was so happy to see a well kept and obviously adored dog. The owner kept the dog's brush in his pocket and would take it out every once in awhile to groom him. This was one fluffy boy, so it was warranted! When the owner would disappear out of sight of the big Samoyed, the dog would sit up and cry, staring in the direction that his "dad" headed off toward. He'd only relax when his owner re-appeared. With me, the town's token white chick, and the big fluffy white dog, we were quite a draw, and had many visitors!
The dog lay down like a frog, with his hind legs spread out on the pavement. His owner explained he was still a puppy. You could see this because his ears were still a bit floppy at the points. When he is an adult, they'll straighten out to stand upright.
They all live up on a mountain in my town. On a farm. Apparently the owner is going to visit my school soon with some sweet potatoes and some corn (neither of which I enjoy) and maybe a puppy to cuddle for awhile.
I'm looking forward to it!