Many thanks to Stephanie over at
Dispensing Happiness,
for hosting this latest round of Blogging By Mail!
Every time I get a BBM package, my co-workers gather around, rubbing their hands together and licking their lips, urging me to "Bbali bbali, open it quick!" so they can
steal
admire all my food goodies! Well, this time the joke was on them, because there was no food to gobble up! Ha-ha!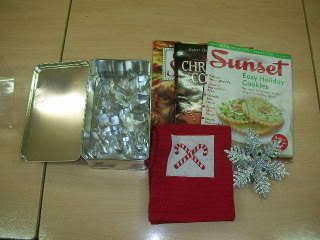 What there was, was a glittery Christmas tree ornament, a tea towel, 3 magazines about Christmas cookies, and a tin of cookie cutters!
Thank-you,
Barbie2Be
for the goodies!
Now, if only Santa had brought me an oven so I could
make
some of the yummy looking cookies!