Big Kamikaze Kamakiri Kitty gets very impatient when he figures it's time for dinner. He starts meowing, sadly and quietly at first, but soon becomes angry and loud! He moves closer and closer to his empty dish until his head is practically in it. Just before I took this picture, he was lying with his paw in the dish and rattling it against the floor. Clunk, clunk, clunk.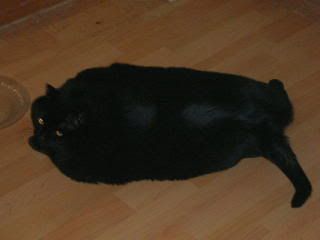 Alright alright alright, dinner's coming up - quit making such a racket!
For more weekend cat blogging, be sure to stop by kitchen Mage's
site.
It sounds like they're having quite a storm! And if you like many many pictures of cats, please visit
Miss Ellie's Page.
I always want more cats when I see all the lovely ones up for adoption on her page.