Kamikaze is doing better. Earlier in the week he was having some trouble walking. I'm pretty sure he landed funny after jumping off the bed. He's resting and getting lots of attention from moi. We've had a good weekend so far with lots of brushing and cuddling.
Ahhhh- all relaxed and freshly brushed.
He is ready for his close-up.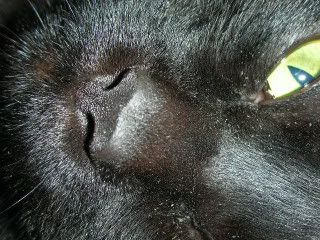 So Happy Birthday to Weekend Cat Blogging! Now whoosh on over and check out all the cats at
A Byootaful Life!
Puddy is a fine looking black cat as well!