I bet if I asked you what you'd get if you bred one Laser Cat with another, you could probably guess. That's right, wee laserittens!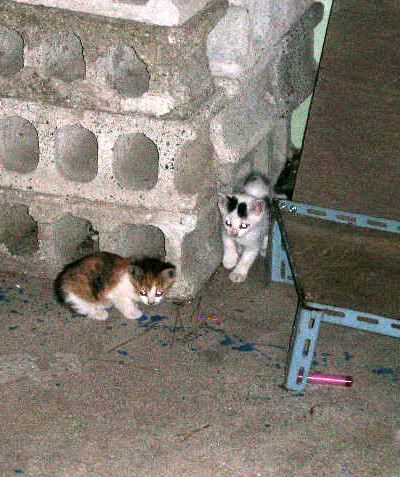 There were actually four laserittens, but by the time I'd pulled my camera out, two of them had hid themselves. Don't be fooled by the smallishness of their laser eyes, though. They can wound you pretty bad if you anger them. They're even kind of scared of each other's laser eyes!
Where'd he go? Chicken!
A yowling sound came closer and closer, and what I guessed was the Laser Mother suddenly appeared on the brick wall above where the wee laserittens frolicked. She regarded me, and then slunk on to the neighbouring rooftop where she could keep an eye on me and contemplate zapping the top of my head off through the trees. Can you spot her?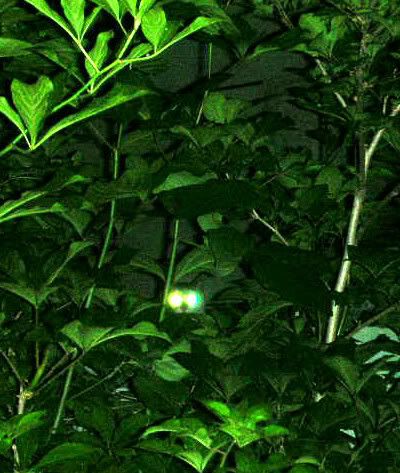 Ah! But then another yowling sound came near! Turns out Laser Mom in Yonder Tree was actually Laser Papa, as he proved when he came out to greet his Laser Wife and spray against the wall with his shaky tail standing straight up. Ew!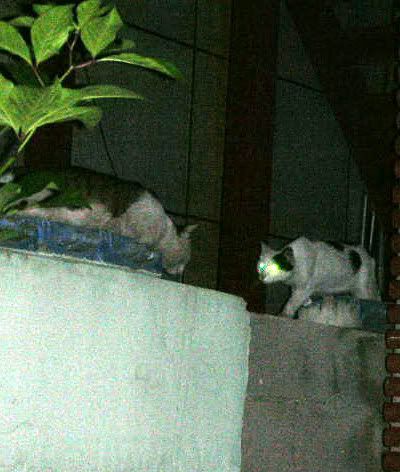 Laser Mom then climbed down to check on her laserittens. She stopped momentarily to ask me if I needed her to zap that camera out of my hand.
I thanked her, no, that wasn't necessary.
Is that you, Mama?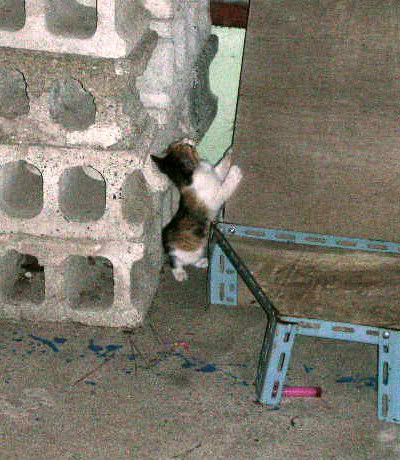 Kamikaze's on a time-out for having crapped outside his litterbox last night while I was out, and then walking in it, leaving poo-paw-prints all over my apartment. Guh-roh-suh! He got into further trouble for being such a big sucky baby about getting his poo-paws washed with the shower-hose in the washroom. He did not enjoy that, but I told him it wasn't fun hunting for poo-prints, either. So, he can't come out to play for WCB this weekend. But, other cats are out and about! Go check them out over at
House of the Mostly Black Cats!