Ahhh, Sundays. Love 'em.
And, I'm loving this cold weather. Over the last couple days it's gotten really chillified. I'm not one to complain about the cold. I'd complain about the lack of snow, but I'll save that for around Christmastime.
So, - Sunday. Great time for dinner and a movie. I usually try to cook something half decent for Sunday dinner. Sometimes on weekday nights I might have a meal of toast. Or soup. Sometimes popcorn. You know what I mean.
But Sunday I had curry!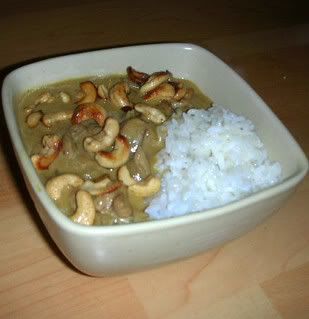 Chicken curry with roasted cashews. I used pepper chicken, onions, peppers, mushrooms, curry and coconut milk. It was pretty yummy. Nice comfort food for a cold night.
And for dessert? Peach crêpes! Hello!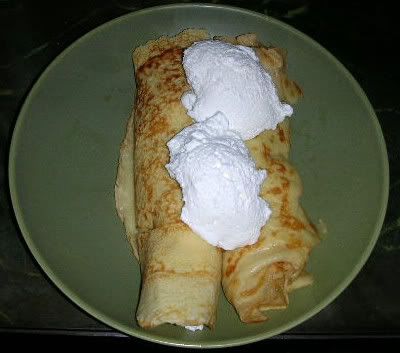 These were simple to cook and assemble, but the preparation took some work! First, I made
mock ricotta
. Then I whipped up some cream by hand. Then I mixed up some crêpe batter:
1 cup all-purpose flour
2 eggs
1/2 cup milk
1/2 cup water
1/4 teaspoon salt
2 tablespoons butter, melted
And voilà! Crêpes! Let's look inside one of these bad boys.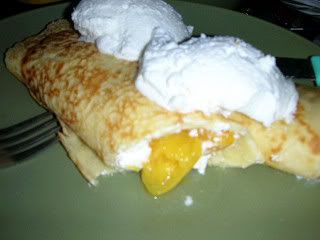 Mmmmmm!
Actually, I was pretty full from the curry, and while I thought the ricotta was a good idea - I actually wasn't too keen on it. After I ate half a crêpe as it was, I started picking them apart and just eating the peaches and whipped cream. I think tomorrow I'm going to make some applesauce in prep for next Sunday's pork chop, baby potato, spinach and applesauce dinner. So maybe I'll try an applesauce and cinnamon crêpe tomorrow night.
Oh, and the movie was The Fisher King which I've seen maybe 548 times now.
I like New York in June. (As well as chicken curry and peach crêpes.) How 'bout you?