Here's some things I've seen this past few days!
Earlier in the week while I was pretty much bed ridden, I lay there looking out at the sky and the clouds passing by. I can't recall what I was thinking but it was probably along the lines of "boo-hoo, poor immobile me!" As I lay there though, there was a commotion of sound in the forest and two pheasants took flight. I've never seen one before. They didn't look the same, and I'd bet the more flamboyant and jazzy looking of the two was the male. (Also he was chasing the female, which is how it often goes eh?)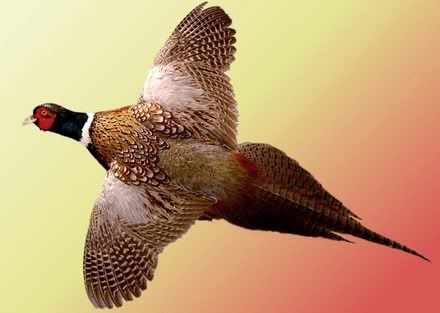 (Borrowed from
The Nomad.)
Last night, as I sat on a bench downtown waiting to meet up with C. for a quick coffee, I listened to tunes on my MP3 player and gazed up into the heavens, wishing that there wasn't so much city light blocking the view of the stars. Just then, an orange fireball streaked right across the sky. In reading up on fireballs last night, it seems seeing one is pretty rare, so I'm lucky to have been looking up just then. In looking things up on the web last night, I learned that the stuff that creates a fireball can range in size from mere inches to a few feet.
Earlier in the day on Thursday, I heard a bit of commotion on the street below my school. I was standing near the open window, and so had a look outside to see what was happening. A crowd of people (mostly kids) stood looking and pointing at something which looked like a length of that snakey pipe stuff, but which turned out to be (when I went down later to have a look) an actual dead snake. It was pretty big too!
Today, girls from my 3rd class entered all frazzled, telling me about a
byuntae
who was exposing himself and grabbing at little boys (!) crotches who would walk by him. They pointed him out to me, as he was still sitting at the bus stop across the street, It didn't take much to realize he was, what's the PC term these days,...developmentally disabled? Still, I called the boss in to listen to the girls, wondering if she was going to call someone to report the guy. She didn't. When I was in elementary school, we came across a flasher at recess once. We told the teacher who told the principal who called the cops who came and snapped the guy up pronto.
I guess things are a bit different here. (No shit, Sherlock!)