It's been POURING all day here, and Kamikaze and I have enjoyed an assortment of naps together. Some were all cuddled up. I love it when he lets me "spoon" him. Others were more separate, but it usually ends up one part of either of us is touching another. Sometimes I hold his paw. Other times he presses his cat butt up against me. Most often his tail is slapping me on the shoulder or the nose. He makes a good sleeping partner.
In this pic. I told him we were both going on diets.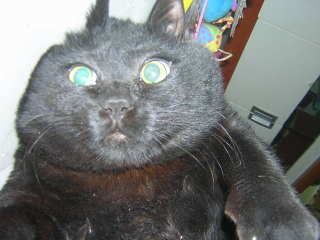 He looks shocked, eh?
Later, in rebellion, he turned on his laser beam eyes and zapped a giant hole in my stomach.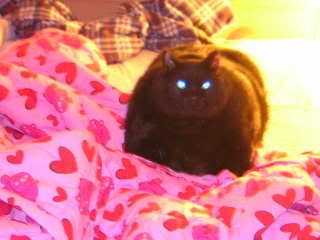 Now dieting will be easy, I'll eat the food and it'll travel down my esophogas and just fall out the space where my mid-section used to be!
For more cats and kittens and fun, why not visit
Eat Stuff?!?!
Also, make sure you visit the
Carnival of the Cats!