Oh, I love presents! I love getting mail. If anyone wants to send me presents in the mail, feel free! Ha!
I got a lovely little box from The Maven over at
Thought Nuggets.
AWESOME!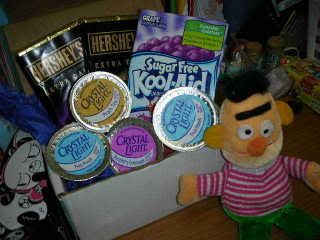 Here are my goodies sitting with Bert, who lives on my desk. (I don't know where Ernie's gotten to!)
Mmmmmm! Crystal Light. I love love love Crystal Light, and Maven was kind enough to send three flavours, Peach Iced Tea, Rasberry Lemonade, and Fruit Punch! They're all excellent. Mmmmmm! Sugar-free Grape Kool-Aid! Kool-Aid Kool-Aid tastes great! Love it! And Mmmmmm! Definitely NOT sugar-free chocolate. I love dark chocolate. Maven sent me a bar of Hershey's Extra Dark, and a bar of Hershey's Extra Dark with Cranberries, Blueberries, and Almonds. Outstanding!
I offered some of my bounty to my co-workers. (I didn't WANT to, but they insisted I open the package the moment it arrived) Jane, who had already told me how much she loves dark chocolate walked over to the bar I had unwrapped and was holding out to her, and snapped off exactly HALF of it! Grrrr! I shared some of the drink with the kids, they loved it. I had given Judy a little container of the Crystal Light Pink Lemonade I'd gotten from my
BBM
partner Lindsey, and instead of putting that good stuff in some water, she's been distributing it in small amounts into the students' hands and then laughing at how they screw up their faces in reaction to the sour taste.
Anyhow, thank you SO MUCH Maven! A hundred thank yous. I love surprises. I love presents. I love mail. I love how thoughtful you are. Thank you.