Here's something you don't see,..well - EVER back home. It's a minnow truck! But these little guys aren't destined for the end of a fishing line. They're destined for your belly! On the back of a truck is a great big aquarium and there's a big blurry ball of shimmery silver inside.
The Minnow Man will scoop a bunch of them out for you, dump them into a bowlfull of batter and then transfer them into a wok of boiling hot oil.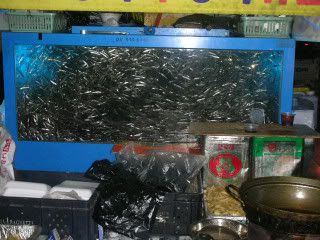 Mmmm. That's some fresh fishies!
I've never eaten them, so can't tell you if they're awesome.