Ahhhhh Dokdo....you rocky magnificent bastard. If you want some background information, please visit
here
or Flying Yangban's site has some info
here
or the Marmot
here
.
Dokdo is a tiny rocky island in the middle of the Japanese Sea,....or as Korea refers to it, The East Sea. If you care to read the links (and I cant seem to figure out how to make my links appear in another colour, so I apologize) you can find out a lot of historical and political perspective on this hunk of rock, known in Korea as Dokdo, and in Japan as Takeshima. When I mentioned Takeshima to my friends and former colleagues in Japan, no one knew what the hell I was talking about. I GUARANTEE you, though, you mention Dokdo to ANY Korean and they know EXACTLY what you're referring to~ unless you are mentioning it to your Korean buddy who lives on a mountain under a rock.
I only want to tell you about the fabulous little t-shirt I bought for my niece tonight at Lotte Mart. (Lotte Mart's a big supermarket/department store/complex which also houses TGIFridays in downtown Ulsan.) My beautiful niece just turned 3 at the end of May...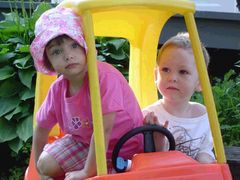 Here she is escaping from the car and her boyfriend Ryan, my friend Andrew's son. Jeepers creepers, where DID she get her peepers? Aren't those some gorgeous eyes?
Anyhow, I like to shop for her here. Korean little girl clothes are adorable! A little too pink for my liking (hello? sex-role stereotyping?) but cute cute cute. Well, today I picked up 4 items, a cute white and purple shirt with ribbons and a princess waist, a pair of super cute purple "skorts," and 2 shirts from the Peanuts line of clothes. One is yellow with a Snoopy-by-numbers cartoon and Woodstock on the back. The other,....well,...it's funny.
It's a Dokdo shirt!
On the front is "proffesor snoopy" pointing at a map on a pull-down screen. On the screen is a map. Korea is noted. The much smaller, scaled-down, and sans-Shimonoseki (the island south of Honshu and east of Kyushu) Japan, is not labeled.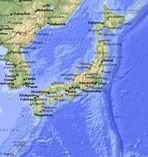 Dokdo is referenced by a dot in the labeled East Sea. Snoopy is pointing to it and thinking, in a thought bubble "DOKDO IS LAND OF KOREA" and below Snoopy it says "world famous proffesor snoopy say,"
Well shit, forget all the historical fighting. If professor snoopy say,....it's gotta be true!
Above the whole cartoon is the caption "DOKDO IS OUR LAND." (And in a box in the bottom corner of the map, it says "MAP OF THE WORLD") Ha ha. That's it folks, South Korea, North Korea, a small chunk of China, Japan's tiny Kyushu and half-of-Honshu and a speck of Dokdo. C'est tout la mode.
On the back of the shirt, up near the collar, is a simple blue cartoon of Snoopy sitting on a rock with a banjo, a couple clouds, a couple music notes, and a South Korean flag. Underneath says 'singing in Dokdo.' Go Snoopy! Sing it!~
I like that my pretty 3 year old niece will be making a political statement in Canada, where no-one will have a clue what her t-shirt means.
I see my kids wearing Dokdo t-shirts, and had been happy, in previous weeks, when the students would use their English skills to try to tell me about Dokdo. Once I figured out what they were saying, I would go up to the board and draw a big hunk of Dokdo looking rock on the board. Pointing to it, I'd say "Dokdo?" and the kids would get all happy, knowing I understood what they said, "Yes! Yes!~"
I'd turn back to the board and draw a little Zola-Jenny (stick Jenny, with curly spirals sprouting out my head and a smiley face,) planting a flag with a curly hair smiley face head on it. Turning back to the students, "Dokdo? Nooooooo. Jenny-do!!"
My students laughed and went politically mental at the same time. I wonder if they went home and told their parents I'd claimed Jenny-do right out from under Korea and Japan.
Professor Snoopy say Jenny-do is Land of Jelly!~