Here is Dongchimee's profile. I simply do NOT know why
Kevin
hasn't adopted him as a life-mascot!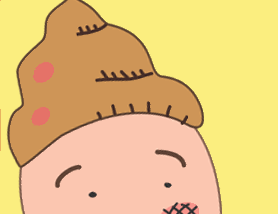 Dongchimee
(From the very cute 'Engrish'
Dalki website
.)
* Sex: Male
* Hobby: Making art work using Dung
* Constellation: Virgin (September 9)
* Features: Creative only in Dung
* Character: Dongchimee, one of the characters of Dalkis, is different from Dalkis, main character. Dalkis' friends do not live in the neighborhood of and live with Water Melon, Lemon, Dolbam, and Banana. Dongchimee loves Dung very much. It is his own creation. It is hard to adjust and makes him feel good every morning.
Dongchimee tries to test to have creations. He sometimes makes dung watery or dry. He makes sketches of such satisfactory dung and put it in a glass bottle. Dongchimee spends most of time at home. He sticks out dung of others unconsciously when he is outside. He can't stand just watching it. That's why they call him "Dongchimee".