Subtitle: The Woman Who Keeps on Giving!
EVA!!!! You're killing me, woman!
A couple days ago I arrived to work to find yet another package from my generous and gracious swap partner from BBM3 back in
November.
I was even more surprised to get another package than I was to get my
second package
from Eva back in December! And here it is, April, and I'm getting yet a THIRD package! As if!!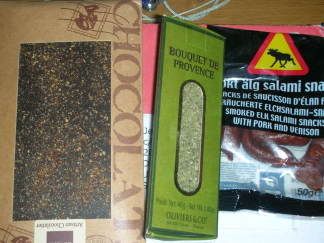 More delicious goodies!
Eva sent me 2 little packages of mini elk salamis. Yummers! Also there's a package of Herbs de Provence. (A mixture of dried savoury herbs grown in Provence - thyme, majoram, rosemary, oregano and savory.) Mmmmm! Now I'm trying to find a recipe to make something delicious and herby for dinner next Monday. (Dinner and a movie night.) I thought the brown flat package was beef jerky at first. Its contents resemble leather! BUT - it's chocolate! Delicious dark chocolate with red pepper, 73% cacao content, hello! Oh Eva,
thank you!
Also in the package were these:
Books! Yay!!!
The thick one is
Eleni,
which I'm looking forward to reading. I'm about half way through the other one,
Special Delivery
now, and I swear I've read it before, but it must have been a long long time ago, because it's only vaguely familiar now!
Eva, thank you thank you thank you!~ You're TOO kind!
I'm already thinking about what I'm going to send YOU next! I'm so glad to hear you like books! (Just a hint as to what I'll be sending you!)