Okay! Here's a Food Blog! It's not something I created (maybe next week) but it's something I ate! Please refer to the previous post if you don't know what I'm talking about!
So tonight the co-workers and I went for a meal. Fish, fish and a little more fish! I like fish, but to be honest I have never found anything in Korea in the way of raw fish (called "hwe" here) that compares to "sashimi" in Japan. So I'm not a total fan. If I had my choice, I would eat a lot of other things here instead of raw fish. Korean BBQ kicks ass, as does samgyetang (chicken and ginseng soup) as well as a whole other mess of Korean cooking. Anyhow, I wasn't given the choice tonight, so off for a meal of raw fish we went.
Let me say it's always interesting for a foreigner who doesn't speak the language to go out for dinner with Koreans. The whole meal is like a surprise birthday party. Each time the waitress visits the table it's like "Ohhhh! What's this?" Sometimes, it can go pretty bad (at least for me) when the menu is all in Korean and I can't be bothered to have the thing translated by my dining partner, as was the case with my 1st meal with C.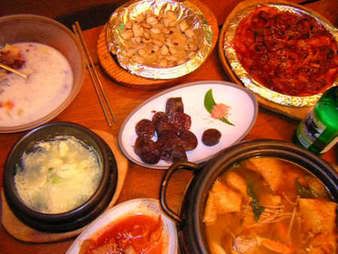 I'd like to think I'm not a terribly picky eater, but the fact is I probably am. I like to try new things, but there's just a whole bunch of things I DON'T like. I want to like them, but I just don't. High on the list is almost any vegetable that tastes sweet after you cook it. So corn, carrots, pumpkin, squash, Korean "mu" (pickled radish) and sweet potatoes, amongst others, are on my "list."
Pictured, we have corn and veg with cheese, a Korean favourite (ick!)* an icy concoction of fruit and red beans (ick,) "soondae" which is blood sausage (ick!) dukboki, fishcake and rice cake with veg in a spicy sweet sauce (kind of ick!) sliced mushrooms (yum!) and steamed egg (yum!) The two main dishes he ordered are pictured. One was a soup made of fish cake, enoki mushrooms and a crab divided in two. It was good! The other was difficult to discern. C. didn't know the name of the chicken part, so he described it as "chicken sandbags," which turned out to be gizzard. I had no idea! For some reason, I thought gizzard had something to do with the neck, and still, nothing I was really too interested in trying. Still, with C's encouragement, I did try. I had to apologize and spit it into a napkin. Call me traditional, but anything having to do with poultry (or meat for that matter) I just can't handle the chewy things. So more than half the things they brought I couldn't/wouldn't eat.
I can already see some problems with me "food blogging" here. One is the number of dishes in Korea. Most are sides, but in my opinion, well worth a comment each on their own. Just the taste of kimchi itself varies from place to place and warrants mentioning. Good kimchi (which, as I've said before, I LOVE) can really make a meal that much more exciting! The other problem is my poo-poo'ing a dish because I wont taste it because it's chalk full of peas or carrots or corn (the evil triangle of veg.) The third problem is that I talk too damned much. So I'll shut up now.
Tonight, many dishes came at once.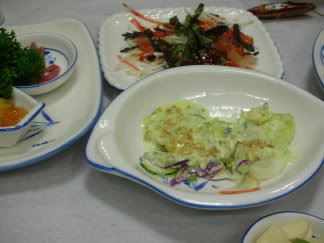 Just a couple of them, a gloopy salad of vegetables and pickles, a gloppy salad of raw fish and vegetables in a spicy sauce, and a nice platter of various seafood and vegetables. In case you haven't figured it out, there's a lot of seafood and vegetables in this meal.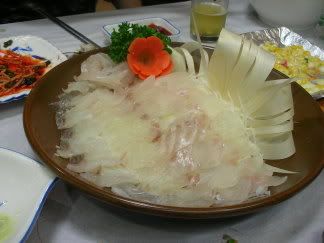 Here's the main attraction, one of those fishies from the previous post all sliced up. It was pretty yummy.
Here's how you eat it: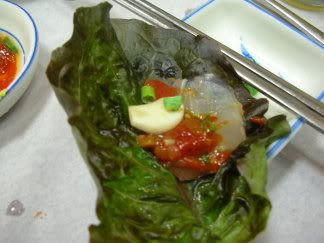 Grab a sesame or lettuce leaf and put the raw fish on top. Add some bean paste, some vinegared hot pepper paste, maybe a bit of wasabi, and some raw garlic or a slice of hot green pepper, roll it up and pop it in your mouth!
Next, a hat tip to Japan.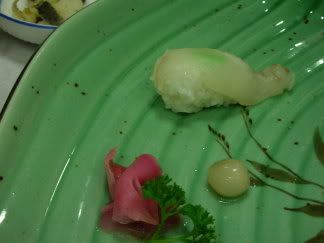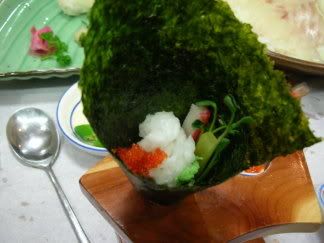 A piece of sushi. Not good. The rice was overly sweet (mirin?) and mushy. The fish was "meh." Then a hand rolled maki. Blah! Again, ick-o rice, a slice of fake crab, pickled radish and fish roe with a dollop of wasabi. My Korean dinner-mates had some pre-knowledge of this bit sucking, because most of them didn't touch it.
One of the best things of the night, a grilled steak of something of other (tuna's "friend," I was told) it was a bit salty and crispy on the outside and fabulously tender and flakey on the inside.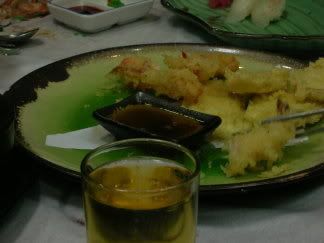 I barely got a shot of the tempura before it disappeared. It was sweet potato and shrimp. Crispy, light and not too oily, they got this right!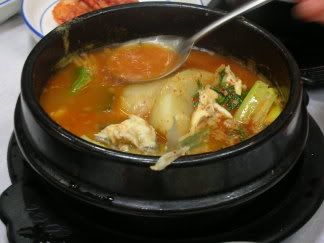 Finally, a bowl of spicy bubbling fish soup served with bowls of rice. It was so-so. The broth lacked depth and the fish inside was a bony pain in the ass with fatty skin.
Overall, I can't say I'd recommend the meal to anyone else, but still I was full at the end of the meal, so it was ok. The low tables were covered in a paper cloth because you just spit your bones and shells and skin onto the table. Walking into the restaurant I saw tables that hadn't been cleaned that were a lot more messier than ours!
*I noticed the corn and cheese is not pictured, but it was THERE, as it was at tonight's fish dinner. Corn n' cheese. It's everywhere!