I cooked a nice dinner for myself last Thursday. I made
chap'che bap
, which is sweet potato noodles mixed with veggies and a little meat, some
jjajjamyun sauce
and some rice. It was so-so in taste, and unappealing in appearance, so I didn't photograph it. I also made some spinach with garlic from a recipe that I found over on
English Patis.
It's appearance was ok, but the taste was still so-so. The garlic had gone a little squishy by the time I ate it.
Sunday was a fantastic day. Lunch with C at a very nice Haemool-jim restaurant.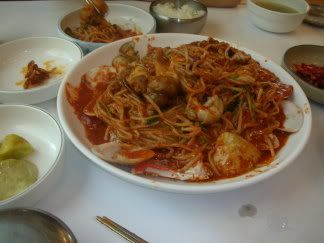 That's a whole bunch of seafood: shrimp, shellfish (does anyone know what the chewy stuff in the twirly shells is called?) mussels, and crab with loads of bean sprouts in a very spicy sauce. It was pretty good. One of the side dishes, with big sliced mushrooms, zucchini, onions, garlic and ground pork was outstanding. They brought us three dishes of it. I think mushrooms are my favourite vegetable!
We did a bit of walking around. The weather was fantastic; it was like a summer day in early June back home! Then we went to a DVD Bang and watched
Along Came Polly.
Phillip Seymour Hoffman made me laugh! I learned a new word, "sharted."
More walking around and a little shopping and dinner back in my neck of the woods, at the little BBQ restaurant with stones as a floor where you sit on little plastic stools pulled up to a steel drum. I had felt a little bad about eating all the mushroom side dishes earlier, but C. got to eat all of the one side dishes at dinner.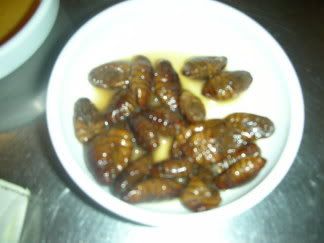 Mmmmmm. BUGS!
A very lovely day was finished off with yet another movie back at my place,
Lord of War,
which was well done and we enjoyed. Nicholas Cage is quite well known over here, especially since
he married a Korean waitress.
That site notes they gave their baby the birth name "Superman." I don't know what that means!
From the window of my classroom this afternoon, a different kind of food was parked outside on the street below.
I pointed at the three dogs in the cage and asked the little girl beside me "boshingtang?" and she gave me a thumbs up and an "OK!!!"
I always feel bad seeing these kinds of dogs in Korea, because I know they're bound for soup, and I think they're so lovely with such beautiful faces. I wonder if it would be weird over here if you had a boshingtang dog as a pet. Would people wonder, "What's that person doing taking my dinner for a walk?!?!" I'm going to ask tomorrow if that is unheard of.