I went out last week and got myself a new blanket. It's sooooo comfy. I have four blankets on my bed already, two comforters and two fuzzy flannel ones. During the summer, though, I folded up the comforters into the corner of my bed and Kamikaze claimed them for his own. I felt guilty taking them back, as he looks so content sleeping on them. Every night he starts out sleeping next to my head. I sling my arm out under his tail, which he flicks back and forth. It feels like, for a change, he's petting me! Sometime after I all asleep, he makes his way to his "bed on my bed" and spreads out. When I finally wake up, he toddles over to sit up against me for his morning brush while I wipe the sleep out of my eyes. We've got a routine.
Anyhow, I bought a new comforter and spread it out on the bed on Tuesday. Before I could try it out, Kamikaze claimed it for his own.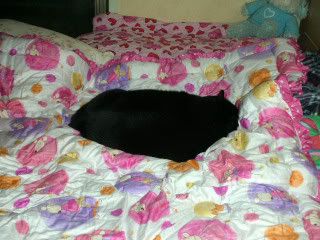 I showed this picture to Jane, my manager, she wanted to see the blanket I'd bought, and she complained "You can't even see your cat's face!"
"I know," I said, "He's sleeping and he's facing the wall!"
Over the past couple nights it's gotten quite cool! (YEE-HAH!) We went down to single digits last night - 8 degrees Celsius. I love it. And I love snuggling under my new super comfortable blanket. So does Kamikaze apparently. Here he is right now.
Can you see him? He worked his way under the blanket.
Can you spot his little paw?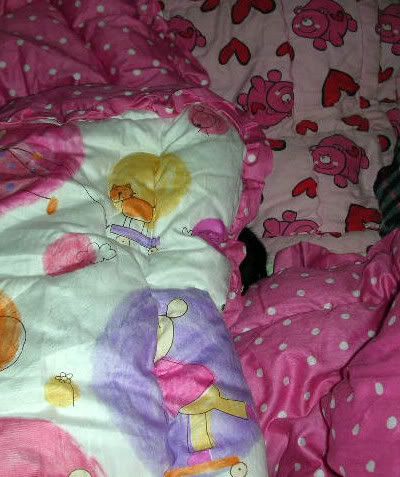 My bed is fabulously comfortable. Lavender scented "sheets." (They're Korean style - a mattress cover and a "pad.") Five blankets. The flannel ones are draped at the bottom of the bed for me to rub my feet into. Do you rub your feet together while you're falling asleep? Kamikaze swishes is tail around. I think it's the same thing as my foot rubbing. Three pillows. Enough to snuggle my head into and hug. Two of them are scented with lavender and herb sachets inside. Fantastic.
Again, my life is thrilling. To think that my bed is something that pleases me the most....
But, sleeping with my big furry baby makes it that much more appealing. The last couple nights he's snuggled in under the covers and slinks is way over to my leg, where he flops down, his arm curling over me (and claws digging into me) and he bites me lightly a few times before he falls asleep with his head smushed into me.
It's good.
For more goodness, head over to the
*NEW* Tuxedo Gang Hideout
and check out all the WCB posts! Thanks for hosting tux-cats, and thanks for reading the rest of you.