I just now found out Nell Carter died. Did you know that?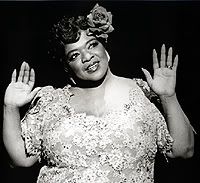 It's almost 3 years after the fact, but no one tells me anything. I was wondering why Nell hasn't been replying to my fan mail. Sheesh, she had some
pipes
, eh?
I found out about Mz. Carter's death in a round about way because John Spencer, of one of my favourite shows, The West Wing, died suddenly yesterday. He had a heart attack. What a drag. At least it didn't take 3 years for me to find out.
I haven't watched The West Wing since I left Canada, and I'm seriously looking forward to getting through multiple seasons on DVD in a week long West-Wing-a-Thon. It'll be interesting to see how they handle his death on the show.
R.I.P John Spencer.