I've been trying to get through
Elizabeth: The Golden Age
for the last three days. I don't know why I keep wandering off and forgetting I was watching something. This is the second time I've rented it and not watched it. If I don't get 'er done tonight, I shall return the DVD and fuggedaboutit.
In a similar vein, I went and saw
The Other Boleyn Girl
at the theatre last Saturday. I wasn't really interested in seeing that film, but it was pretty much the only choice playing. The costumes in the film were gorgeous and Scarlett Johansson has some big huge kissy lips. It wasn't so bad, but about half way through the movie by butt started to ache and the theatre felt too hot and I was like, "Alright, chop her head off already." Have you seen that film? Could Henry's coats be any bigger? He's so SpongeHenry SquareCoat.
At five o'clock we have middle school classes, and they always show up starving. After our school they all have to go to other academies and study their poor little heads off well into the night. My boss has been feeding them before class starts - and you know what she makes them and they willingly eat? Toast. Just a dry piece of toast. Whoopdeedoo! Anyhow, I've been making them something different on occasion over the past couple weeks. They got sandwiches a couple days last week - PB&J and ham & cheese. They went over
very
well!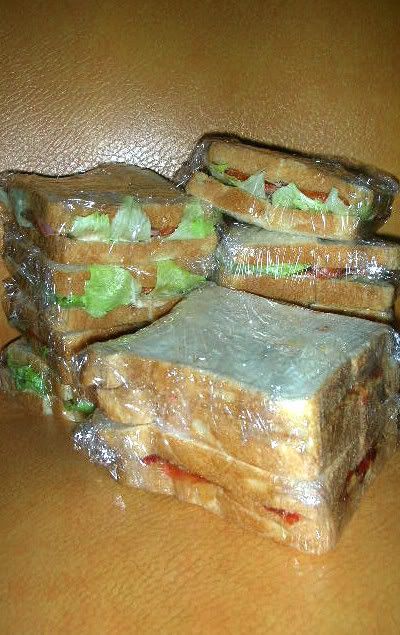 This week they've gotten waffles! I made them the night before, cooled them off, wrapped them up in foil and we toasted them before class.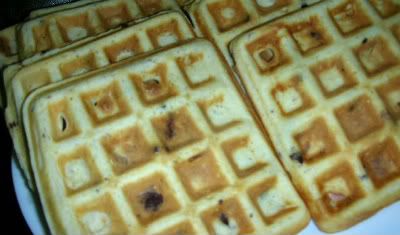 These were chocolate chip buttermilk waffles. The school smelled like a bakery and all the kids leaving the four o'clock classes whined about not being able to eat whatever it was they were smelling.
Tonight I made chocolate chip/coconut/almond buttermilk waffles which are so light and crisp, they're going to be awesome tomorrow. They were a little troublesome because they were a bit sticky on the waffle iron, but all in all they turned out well.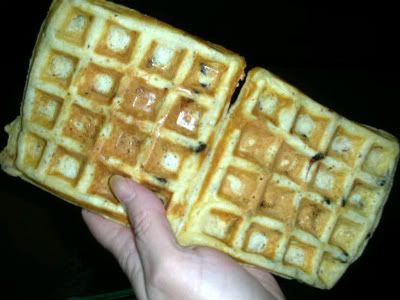 What's that?
You want a recipe?
Mmmmm'kay!
I made this recipe up myself after reading other waffle recipes on the web for some ideas.
Jelly's Super Happy Chocochip Coconut Almond Buttermilk Awesome Fun Time Waffles
3 cups flour
1/3 cup sugar (I used brown as that's all I had)
1 tsp salt
3 tsp baking powder
3/4 tsp baking soda
3 eggs
3 cups buttermilk (I made a substitute of milk & lemon juice)
1/4 cup melted butter
1/3 cup chopped chocolate chips
1/3 cup dried shredded coconut
1/3 cup sliced almonds
vegetable oil
Mix all the dry ingredients.
Separate eggs, whip the whites to soft peaks.
Stir the buttermilk, yolks, and butter together and pour over flour mixture.
Mix that up, add the chocolate, coconut and almonds. More mixing.
Fold in the egg whites.
Brush the oil on a hot waffle iron and ladle the waffle mix on the grill. Voila.
Eat them up, yum!