I've been thinking about my friend Sher from
What Did You Eat?
all weekend, ever since she sent me an awful e-mail on Friday letting me know that her gorgeous cat
Upsie
had passed away. It was only just over a couple weeks ago that she found out Upsie had cancer in her kidneys. Sher knew the prognosis wasn't good at all, but the vet said Upsie could still perhaps have a few more months. She went downhill quickly, however, and was in a lot of pain on Wednesday. Sher got some pain killers for Upsie on Thursday and made the sad arrangements to have the vet come and euthanize her that night. Upsie slipped away before the vet got there, though.
Sher spent a lot of time with Upsie in the last hours of her life. She got brushed and petted and I'll bet she felt better because of it. Upsie was well loved around the internet, and she was my favourite cat besides Kamikaze. I looked forward to seeing new pictures of her and her fierce tomato worm stomping paws. I'm going to miss her.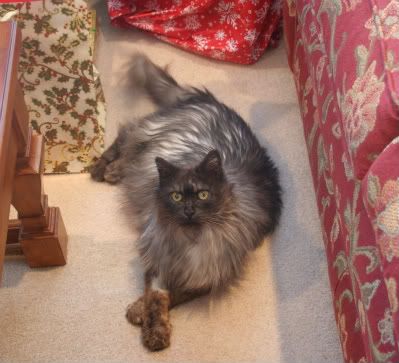 My heart goes out to you, Sher.