Celebrate!
Happy New Year everyone. Here, we celebrate the Lunar New Year (commonly called "Chinese New Year" back home.) This year, our 3-day celebration fell on a Saturday, Sunday, and Monday - which sucks days-off wise. But my boss decided to give us Tuesday off as well, as she tends to do when holidays fall on the weekends. So, good for me.
If I was uptight about scheduling I'd be annoyed. The extra day off eats into my vacation time, and seeing as I just learned about the extra day off last Wednesday, I didn't have time to plan to do anything exciting. No worries though, as it is - I don't care. During the Lunar new Year and at
Chuseok
(Korean
Thanksgiving
) many people travel to their hometowns to spend time with their families. The roads and highways are always super congested, and flights to other places are booked well in advance. So I usually stick close to home and do a whole lot of not much at all.
I went for a walk in the middle of the night last night. It was a ghost town here. In my hour long venture only a handful of cars passed by, and I met up with even less people. I took this picture of the ever changing ans growing and shrinking but always present
pile of garbage
.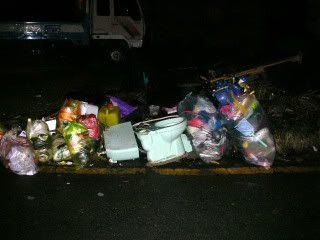 So I got something done!
Good Boy, whose name is morphing into Buddy: the Good Boy accompanied me in my stroll.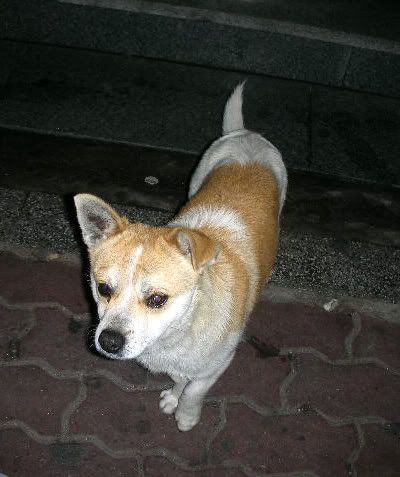 He's very good at keeping up with me, sometimes he lags behind to smell stuff, because that's his job, and then he comes bounding to catch up to me, often leaping at my leg
kung
-
fu
style! Sometimes he places his paws perfectly on my calf and makes my leg buckle. Funny dog. I sort of wish I had a leash and a collar for him. I doubt he would like it, but I'd feel more like I was walking him, (or he was walking me) instead of us just walking together.
Connectedivity
. Connectedness.
Connectnesstosity
.
I spent Friday night entertaining a director for one of the companies around here. It
wasn
't my intention. I'd stopped off at the bar near my house in the hopes of finishing off a letter I'd started to my mom. Just as one drunk short fellow who'd been staring at me left (and paid for my beer on the way out
thankyouverymuch
) the director turned up and sat at the table next to me, smiling and speaking to me. He finally moved his two big bottles of
Hite
over, and ordered us a fruit plate. I protested to him, and the waitress - telling them I didn't speak Korean. Didn't matter.
I should open a club, called "Lonely Guys Who Don't Care if you Understand Them Bar." I'd train all my hostesses to smile and nod and insert "
mmmm
-
hmmm's
" and "
ahhhh's
" in appropriate places. Pepper in a "
Jinja
?" every now and again.
The Director suggested a
noraebang
- and of course I said "OKAY!" I will always go to sing songs. So we walked over to the alien-themed one I was at a couple weeks ago, and I still didn't take a picture of the cool alien chair. He sang older Korean folk songs, which I'm really not a fan of, but I practised my mad tambourine skills. When he scored 100 on his second song selection, he took 10,000 won out of his wallet and slapped it up on the screen.
"
Ohhhh
!" I exclaimed. "It's like THAT, eh?" So every time one of us would score perfectly we'd pull out 10,000 won. When our time was finally up, there was a small stack of bills. I'd won - with 4 perfect scores to his 3. He insisted I keep the pile, but when he left to pay the bill, I stuck his share in his reading glasses case in his suit jacket pocket.
I felt kind of bad, having given him a fake phone number when he'd asked for mine hours earlier. He was a very nice man, and quite a gentleman to boot. I have his card though, and know where he lives - right beside my school. It's kind of pointless, though, to stop by and give him my real phone number - as he couldn't have a conversation with me if he were to call.
I spent Saturday night with a bunch of Filipino men who were funny as hell. We hit the
noraebang
again and had a good laugh. What a difference between these guys and The Director, though. They all live in the same apartment building, but The Director's place is a spacious clean 3-bedroom deal. Really, it's
too
much space for him. The
Filipinas
, on the other hand, live in a smaller 3-bedroom apartment that looks, in places, that it may have never been cleaned. They sleep 6 in each apartment. 2 to a room. I just can't imagine suffering from a lack of personal space, but they seem happy. They're very easy going and affectionate with one another, and I'll bet they don't suffer the
lonliness
that The Director and I do on our own.
So that's that. Since I have tomorrow off as well - this is kind of like Saturday night for me. I like it. I wonder what adventures are in store. Every weekend
should
be 3 or 4 days long, don't you think?