I was out at a park a few mornings ago, just doing a bit of people watching and enjoying some tunes on my MP3 player when I felt something furry nudge my leg. I looked down to see my pal
Buddy
:
The Good Boy.
And Buddy had a friend with him! A puppy!
I didn't have any treats with me so, Buddy and his little pal has to settle for some scratches and happy-talk. This seemed to satisfy them, and soon they were playing in front of me. "Awwww!" I thought, "They're so cute play-fighting and wrestling with each other!" But then their game started to change. It became apparent that while Buddy was playing "Are You Ready to Rummmmmble," Little Puppy was playing "Let's Get it On!"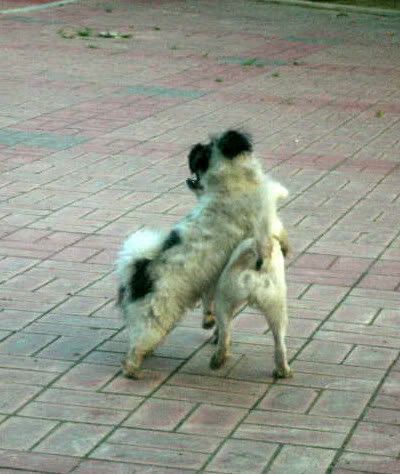 And Little Puppy, who is a boy-pup, was pretty successful in mounting poor Buddy and getting in a bunch of humps before Buddy would protest and give him a smack down.
And when Buddy trotted over to me with his silly smiling face and I asked him, "Buddy, are you gay? Are you all gay now? Is that," I asked, motioning to the puppy attached to his rear end, "yo' LOVAH?"
Buddy didn't confirm or deny. But I think I saw him wink at me before he and his "partner" trotted away.
To a Love Motel, I presume.
A couple nights later I was on my way home and I ran into the pair again. I figured I would, and came prepared with some treats. Here's Buddy: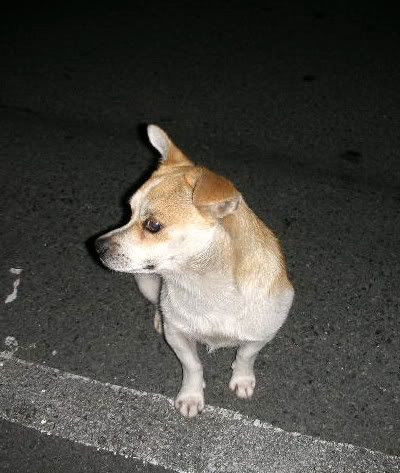 And here's his boyfriend: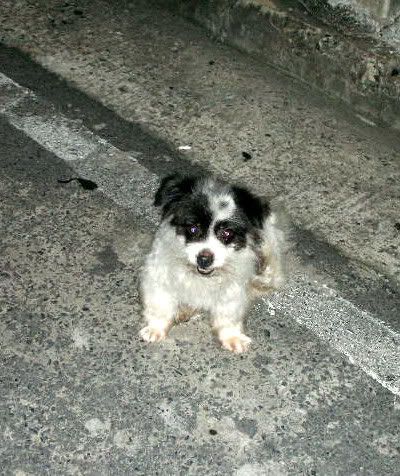 They enjoyed the treats. Puppy licked his lips appreciatively,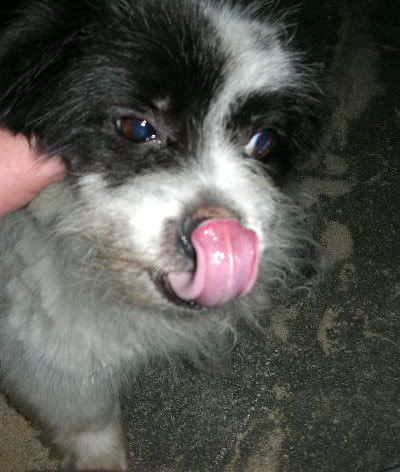 And Buddy took his over to a mat to eat.
He's so smart, my Buddy. Anytime he comes on a walk with me, he stops at every one of these doormats to scratch his itchy flea-body.
Puppy drank half of a 500ml bottle of water I poured fountain style into the bottle cap. Then he licked his wet nose.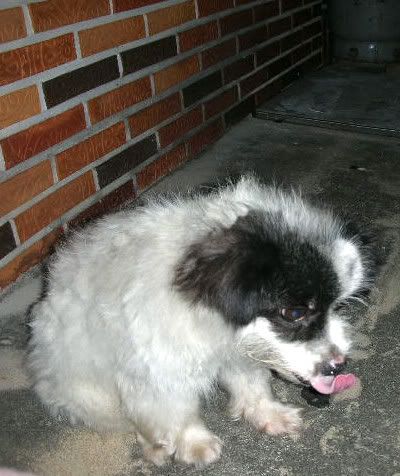 And then, with bellies full and thirsts quenched, it was time for some gay-sex.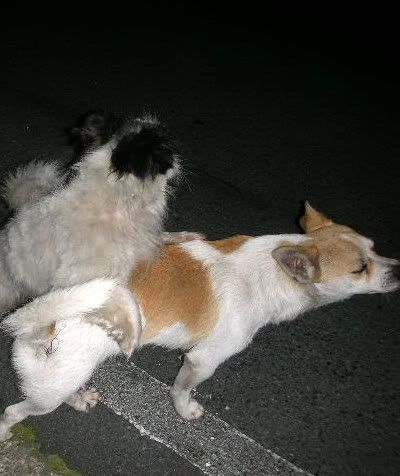 Uh-oh!
They walked me all the way home that night, my little gay friends. The puppy has been named "Circle Gay" now. When he's happy, he circles. The happier he is, the more he circles. You should see him when he comes running up to meet me on the way to work. He looks like a Dervish. And when he now walks with Buddy and I he makes a circle every few steps, (and then humps Buddy for a bit.) He cracks me up.
So there you have it. Sweet gay doggy love on the streets of Korea. Not that there's anything wrong with that!